Posts Tagged 'International Space Station'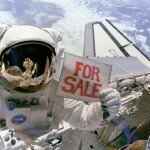 Most advocates of Human Space Flight programs always model HSF with the airplane model.  Government subsidized at first and eventually private for profit companies would take over.  Airplane companies that got too dependent on the government subsidies failed, but airlines [Read More]
There is an old saying, "Two is one and one is none."  It means that if you have only one critical item, and that item breaks, then you have none.  Having two of the same critical item ensures that work can continue if one breaks.  Many of you have been in [Read More]
July 21st, 2011, just 42 years and one day after the first landing on the Moon, I sat and watched America's Human Space Flight Program come to an end after more than 50 years.  As the final "Wheels Stop" was announced by the Commander, I watched in tears [Read More]
What can you say?  It is the end.  The last launch of the most successful American Human Space Flight Program, in fact the most successful HSF program in world history, after thirty years.  Fourteen people have given their lives riding these magnificent birds striving to [Read More]
Mr. Steven White, a regular reader since April of 2010, created a wonderful video explaining Obama and Senator Bill Nelson's new Human Space Flight Program that is supposed to replace Constellation.  As you know, Constellation was to take us back to the Moon and [Read More]
Below is a music video (hat tip goes to Mark Bray of Braynstorms.com) giving tribute to the Space Shuttle Workforce written and performed by Dan Keenan and Kenny McLaughlin who both worked at Kennedy Space Center. I know many of the people in the video and you [Read More]
Friday, July 8th, I will be appearing on The Space Show with Dr. Livingston 12:30 pm to 2:00 pm EST shortly after the last launch of Space Shuttle Atlantis.  Dr. Livingston and I will be discussing my reflections on the launch, and what it was like to work in the Space [Read More]
Mythos is a Greek word meaning story or legend.  Many myths throughout culture were just that, myths.  But, sometimes, those myths actually had some truth to them.  How does a real event become a myth?  How does something that we accept today become a legend or myth to [Read More]
"It is in the DNA of our great country to reach for the stars and explore. We must not stop." – Commander Mark Kelly
Those were the words spoken by Commander Mark Kelly just before he lifted off on Endeavour's final mission.  It was a spectacular launch and a spectacular honest statement by Commander Kelly.  Many people took his statement as a plea for our nation's Human [Read More]
Talk About Chutzpah! Obama to Visit KSC For Endeavour's Last Launch.
Florida Today reports that Obama is planning to attend the last launch of Space Shuttle Endeavour. Talk about chutzpah!   It was just one year ago when Obama came to KSC with his minions, hid from the workers whom he had lied to during the campaign, and killed [Read More]
"Houston Discovery, For the Final Time, Wheels Stop.
It's been a couple weeks or so since Discovery ended her very last mission and I have been struggling about what to write.  As regular readers know, Discovery was the first Space Shuttle I worked on and has always been very special to me.  RV-103 was named in honor [Read More]
NASA Chief Technologist, Robert Braun, admitted in a interview with Physorg.com that it would be at least 10 years before NASA can develop and fly humans on a new ship.  (Special hat tip to NASAEngineer.com for bringing this story to the forefront.) "But with [Read More]
That's My Girl!!!
On February 24th, 2011, OV-103 Space Shuttle Discovery launched for the last time into space.  Discovery was the first Space Shuttle I had the privilege to work on and she has always been my favorite.  I have watched many launches since Columbia's first launch, and [Read More]
Belated Congratulations to SpaceX
Last month SpaceX completed the first Commercial Orbital Transportation Services or COTS test flight.  COTS was set up in January 2006 by NASA, under the leadership of Dr. Griffin, to have commercial companies compete for a contract to deliver supplies to the International [Read More]
As many of you know, I have been an avid supporter of the Constellation program and have expressed grave doubts about Obama, Senator Nelson, and former Congresswoman Kosmas's plan to turn our entire Human Space Flight program over to unproven commercial space companies [Read More]
The Space Show Interview Is Now Online
Last night I appeared on The Space Show hosted by Dr. David Livingston.  The interview went so well that it went a half hour over the scheduled time.  There were many good calls and email questions from all over the world and Kennedy Space Center.  I wanted to thank the [Read More]
This evening the House passed the Senate Bill effectively killing Constellation and America's Human Space Flight Program after 50 years of leadership in space exploration.  Obama, Senator Bill Nelson, and Congresswoman Suzanne Kosmas have succeded in dismantling [Read More]
The More Things Change, The More They Stay The Same.
The editorial below was written by Jim Slade in 1991 for ABC Radio.  It applies to our situation now as it did then. Jim Slade 1991 More of Jim's writings can be found here. [Read More]
An Idea Whose Time May Have Come.
America's Human Space Flight program (HSF) is a mess.  With the attempted cancellation of Constellation by the politician in the White House Mr. Obama, 535 members of Congress fighting over two other options of their creation, America's HSF program is truly [Read More]
The RV-103 lecture series visited the elementary schools in Olean NY this week.  The 5th grade curriculum for NY schools has the students learning about space related topics starting that year and talk about an enthusiastic groups of kids!  The kids got to hear a [Read More]
Rocketman Featured in Smithsonian Air & Space Magazine
The October/November issue of the Smithsonian Air & Space Magazine has done an article called "Throttle Down" by Tom Harpole.   The article is written about the end of the Space Shuttle Program and the economic devastation it will cause to Brevard County [Read More]
With all the other news going on lately, many people are not aware that there are now four plans being pushed to replace the Space Shuttle Program.  There are of course Constellation, which was first proposed by President Bush seven years ago, and Obama's plan proposed [Read More]
Start of Discovery's Final Voyage
Today, Space Shuttle Discovery (OV-103) rolled over to the Vehicle Assembly Building to be stacked and mated in preparation for being rolled out to Launch Complex 39A.  This will be Discovery's 39th and last mission. Though Discovery launched on her first mission August [Read More]
Put Your Face In Space!
From the NASA web site: "Fly Your Face in Space NASA wants to put a picture of you on one of the two remaining space shuttle missions and launch it into orbit. To launch your face into space and become a part of history, just follow these steps: First…Select the [Read More]
Join the Misadventures!
RV-103 is proud to announce the RV-103 Lecture Series.  The RV-103 Lecture Series is designed to present to civic groups, schools 5th grade and up, and scout troops what it is like to be involved and work in Human Space Flight, specifically the Space Shuttle Program. The [Read More]
Although Obama and NASA Administrator Charlie Bolden have tried since January 2010 to push Obama's Power Point plan as America's new Human Space Flight Program, calling the matter "settled", seven months later it is far from settled and a Civil War has broken [Read More]
10-30-09 New York New York!
Evergreen Trails Campground does not accept any club discounts, but with it being off season, the campground manager Mark did give us a nice discount.  The weather up here was already cold with temps getting down into the 20's at night and they had already had some snow [Read More]