Posts Tagged 'Constellation'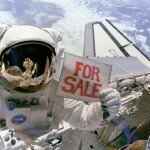 Most advocates of Human Space Flight programs always model HSF with the airplane model.  Government subsidized at first and eventually private for profit companies would take over.  Airplane companies that got too dependent on the government subsidies failed, but airlines [Read More]
July 21st, 2011, just 42 years and one day after the first landing on the Moon, I sat and watched America's Human Space Flight Program come to an end after more than 50 years.  As the final "Wheels Stop" was announced by the Commander, I watched in tears [Read More]
Mr. Steven White, a regular reader since April of 2010, created a wonderful video explaining Obama and Senator Bill Nelson's new Human Space Flight Program that is supposed to replace Constellation.  As you know, Constellation was to take us back to the Moon and [Read More]
Last Thursday I received a email invite from Brevard Workforce, asking me to participate in a Townhall meeting hosted by CBS news anchor Scott Pelley for the show 60 Minutes.  On Saturday I drove over to Brevard County and had the most surreal day I've had for a long [Read More]
Talk About Chutzpah! Obama to Visit KSC For Endeavour's Last Launch.
Florida Today reports that Obama is planning to attend the last launch of Space Shuttle Endeavour. Talk about chutzpah!   It was just one year ago when Obama came to KSC with his minions, hid from the workers whom he had lied to during the campaign, and killed [Read More]
NASA Chief Technologist, Robert Braun, admitted in a interview with Physorg.com that it would be at least 10 years before NASA can develop and fly humans on a new ship.  (Special hat tip to NASAEngineer.com for bringing this story to the forefront.) "But with [Read More]
Belated Congratulations to SpaceX
Last month SpaceX completed the first Commercial Orbital Transportation Services or COTS test flight.  COTS was set up in January 2006 by NASA, under the leadership of Dr. Griffin, to have commercial companies compete for a contract to deliver supplies to the International [Read More]
As many of you know, I have been an avid supporter of the Constellation program and have expressed grave doubts about Obama, Senator Nelson, and former Congresswoman Kosmas's plan to turn our entire Human Space Flight program over to unproven commercial space companies [Read More]
The Space Show Interview Is Now Online
Last night I appeared on The Space Show hosted by Dr. David Livingston.  The interview went so well that it went a half hour over the scheduled time.  There were many good calls and email questions from all over the world and Kennedy Space Center.  I wanted to thank the [Read More]
Did NASA sit on the data that revealed the Moon had twice as much water than previously thought until after Congress and Obama killed Constellation a few weeks ago? [Read More]
This evening the House passed the Senate Bill effectively killing Constellation and America's Human Space Flight Program after 50 years of leadership in space exploration.  Obama, Senator Bill Nelson, and Congresswoman Suzanne Kosmas have succeded in dismantling [Read More]
The More Things Change, The More They Stay The Same.
The editorial below was written by Jim Slade in 1991 for ABC Radio.  It applies to our situation now as it did then. Jim Slade 1991 More of Jim's writings can be found here. [Read More]
An Idea Whose Time May Have Come.
America's Human Space Flight program (HSF) is a mess.  With the attempted cancellation of Constellation by the politician in the White House Mr. Obama, 535 members of Congress fighting over two other options of their creation, America's HSF program is truly [Read More]
Rocketman Featured in Smithsonian Air & Space Magazine
The October/November issue of the Smithsonian Air & Space Magazine has done an article called "Throttle Down" by Tom Harpole.   The article is written about the end of the Space Shuttle Program and the economic devastation it will cause to Brevard County [Read More]
With all the other news going on lately, many people are not aware that there are now four plans being pushed to replace the Space Shuttle Program.  There are of course Constellation, which was first proposed by President Bush seven years ago, and Obama's plan proposed [Read More]
Start of Discovery's Final Voyage
Today, Space Shuttle Discovery (OV-103) rolled over to the Vehicle Assembly Building to be stacked and mated in preparation for being rolled out to Launch Complex 39A.  This will be Discovery's 39th and last mission. Though Discovery launched on her first mission August [Read More]
NASA Administrator: Forget the Moon, Let's Worship Allah and Sing Kum Ba Yah!
I was going to do some RV type posts today, but then this story came up on Fox News that just blows my mind.  It is said,  "Reality is stranger than fiction," and stories like this prove that cliche' so true. It seems that NASA Administrator Charlie [Read More]
Although Obama and NASA Administrator Charlie Bolden have tried since January 2010 to push Obama's Power Point plan as America's new Human Space Flight Program, calling the matter "settled", seven months later it is far from settled and a Civil War has broken [Read More]
On June 4th, 2010 SpaceX "successfully" launched their Falcon 9 rocket for the first time.  For that accomplishment, I give them my congratulations.  To launch a rocket and achieve orbit is a massive undertaking and very few nations can do that let alone private [Read More]
Your Calls Are Making a Difference!
Though Obama and Charlie Bolden are trying hard to kill our Human Space Flight Program, Constellation is still hanging on.  By law, which was passed by Congress last year, Constellation cannot be cancelled without congressional permission.  Work continues on Constellation [Read More]
Folks I want to thank you so much for reading and forwarding this post I did on Obama's April 15th speech. It has truly traveled around the world and been seen over 6,000 times now. Keep the pressure on your congressmen and senators. Ask them to support Constellation [Read More]
When Things Go Viral
About a week ago I posted an analysis on Obama's speech ending our Human Space Flight Program.  I was surprised to find it being featured on at least seven web sites, including NASAwatch.com. My first clue was when I couldn't log on to my website.  The message I kept [Read More]
On April 18th, our fearful leader Commander Merlin allowed me some shore leave.  Since we were just outside of Houston, I drove over to see Johnson Space Center's Visitor Center.  I have spent many hours at the Kennedy Space Center Visitor Center (I'm even shown [Read More]
I watched with great interest Obama's speech at Kennedy Space Center and had to take a few days to think about how I would reply to it.  (Please also see this post.) I think the first thing that needs to be covered is the ending of the Shuttle Program.  I have found, [Read More]
Neil deGrasse Tyson on What NASA Means to America's Future
Mr. Tyson was speaking at the University of Buffalo recently when he was asked about Obama's cancellation of our Human Space Flight program.  I truly wish I was as eloquent as he is when it comes to explaining why we need Human Space Flight as a nation. Please take 4 [Read More]
Off Topic, but Important
Though this is a blog chronicling the misadventures of the crew of RV-103, many of you know I am retired from Kennedy Space Center and Human Space Flight is near and dear to my heart.  A major event recently occurred that I want to comment on.  It is not a launch, but [Read More]