Posts Tagged 'Class A'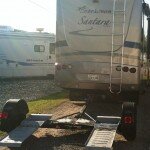 What can I say, but that it is an end to a major chapter in our lives.  Today I turned over the keys to our great and intrepid ship RV-103 Discovery to a young family and closed an extraordinary chapter of misadventures our commander and crew had lived with great joy and [Read More]
Recently, a family member told Rocketman that her husband and she were going to start their own form of "misadventures."  They were now empty nesters and felt it was time to travel the country full time in an RV and wanted some advice.  After about an hour long talk [Read More]
Day One Early Monday morning we packed up and started the long trip back home.  With the tank already filled and the car loaded, we started off just before the rain started which I was thankful for.  Our goal was to reach the southern border of WV at a travel plaza in [Read More]
You Can Follow Us on Twitter
Since I don't post every day, some folks write me after a few days asking if there is a new post on RV-103.com or not.  Our website is now linked to Twitter under the account Random230.  Every time there is a new post on RV-103.com, a message will be sent out on [Read More]
05-04-10 Lions, Tigers, and Bears…Oh My!
We started our travels again today and drove all the way through SC and NC, finally stopping in Wytheville VA.  As we were searching for a campsite, we decided we would cash in some of the gazillion KOA points we had accumulated and stay at the Wytheville KOA.  Because of [Read More]
05-02-10 Hardeeville RV Park
We got up early this morning and broke camp.  We traveled all day through Florida and Georgia, stopping in South Carolina.  The only problem we ran into during our trip was the generator.  For some reason the generator runs, but doesn't kick on the AC power.  I was [Read More]
05-01-10 Jetty Park at Port Canaveral
Our first stop was only a short 3 hour drive to Jetty Park in Port Canaveral.  It is the only "public" campground we usually go to right on the Atlantic Ocean.  We usually stop there when we are heading north in order to visit with family and friends due to the [Read More]
05-01-10 Mission #3 The Empire (State) Strikes Back.

RV-103 is finally restocked and ready for Mission #3  We will be returning to the Empire State of NY for research, recreation, and to await the crew's birth of their first grandchild. Gypsy has been hard at work provisioning RV-103 with all the needed supplies while I [Read More]
In the RV Processing Facility
Yesterday I took RV-103 to Preventive Maintenance Service of Florida for her oil change and to have our damaged door panels looked at.  The owner, Al Cruz, came out and looked at the damaged door panels.  I told him that along with the oil change and safety check, I [Read More]
When we were in New York during our Shakedown Cruise (see Mission #1), we found that wireless internet at the various campsites did not always live up to their hype.  Connections were spotty and many times nonexistent.  Since we spent a good amount of time online [Read More]
Now A Word From Our Sponsor…
The purpose of our web site is to keep our family and friends informed of our misadventures in full time RVing.  We have been quite surprised at how much it has grown and the number of non-family that now read it each week from all over the world. We never meant for the [Read More]
Though the temperatures here in CA are actually currently warmer than it is in FL, it still does get a bit chilly at night.  That means we need to run our propane furnace at night.  Propane not only runs our furnace, but our refrigerator and hot water tank.  Even though [Read More]
01-08-10 to 01-26-10 Where is the California Sunshine?
The Beach Boys used to sing about the California Sunshine and I am beginning to think it is just a myth.  For the last 18 days it has rained nearly every day.  And the wind!  Storm after storm coming off the Pacific has brought winds that would gust up 50 mph.  I would [Read More]
Off Topic, but Important
Though this is a blog chronicling the misadventures of the crew of RV-103, many of you know I am retired from Kennedy Space Center and Human Space Flight is near and dear to my heart.  A major event recently occurred that I want to comment on.  It is not a launch, but [Read More]
Go Fever! 12-22-09
Go Fever is a an old NASA term that meant you were so focused on meeting a launch deadline that you would overlook or dismiss warning signs of a problem.  "What, the left wing of the Space Shuttle is falling off?  Not a problem!  The shuttle still has its right wing to [Read More]
12-19-09 Launch day for Mission #2
As we were closing out the condo, we discovered Commander Merlin hiding under…errrr…doing a final walk down under the bed.  It took both crew members to coax her out so she could report for duty on the bridge of RV-103.  We loaded her up in her own little special [Read More]
11-29 to 12-19-2009 Back in the RV Processing Facility
RV-103 is back and being readied for her next mission.  This is the time to go over "lessons learned" from the shakedown, take off supplies we realized we didn't need and take on supplies we found we did need. We also needed to get routine maintenance done.  Up to [Read More]
11-14 to 11-29-09 Completion of Mission #1 Shakedown
We stayed at the Philadelphia West Chester KOA while doing our research work at Drexal University Library Special Collections.  This was our first time staying at a KOA and it appeared well run.  Nothing special about it as we learned about all the KOA's we ended up [Read More]
11-14-2009 Houston We Have A Problem The Sequel
It was a Saturday and we prepared to leave NY for Philadelphia to continue our research work.  The previous Monday I had gone to Camping World and bought a Master Tow Dolly for $1,400.  Camping World said they would have to have one brought in from another store and [Read More]
11-09-2009 Commander Merlin Orders The Crew To Stand Down
We had a free day today thanks to Commander Merlin.  She had decided we all needed a down day and of course led by example by laying in bed all day watching TV. The crew decided to try out their new gold panning kit in the local creek.  Though New York is not known for [Read More]
10-30-09 New York New York!
Evergreen Trails Campground does not accept any club discounts, but with it being off season, the campground manager Mark did give us a nice discount.  The weather up here was already cold with temps getting down into the 20's at night and they had already had some snow [Read More]
10-29-09 Houston, We Have A Problem!
Prior to leaving we needed a tow dolly to tow the SUV.  I had searched in the local paper and on Craig's List.  Most tow dollys I found were $1000 or more that were capable of towing our vehicle.  I eventually found a used dolly on Craig's List for $700 and went to [Read More]
10-28-09 There Is A Reason For Rules
We had established two rules and have found during our travels if we broke them, life became more difficult. Rule #1  Never drive at night if you can avoid it. Rule #2  Never set up your campsite at night. By the evening of Oct 28th we were in Virginia and it was already [Read More]
10-27-2009 3…2…1…LAUNCH!!!!!
"The clock is running!  We have cleared the tower!"  Sorry, I had to quote Commander Lovell in Apollo 13. Yes folks, after all this time, we are finally on our way.  Mission #1 of Discovery RV-103 is a shakedown cruise for the ship and the crew.  With our fearful [Read More]
10-25-2009 Moving to the Launch Pad!
Today is the day!  We packed up RV-103, closed out the condo, and proceeded to our "launch pad" for the shakedown mission of Discovery.  We traveled from our home in the Clearwater/Tampa Bay area to the Port Canaveral Campground in Cape Canaveral FL.   There we got [Read More]
Satellite TV: Dish Network or Direct TV?
RV-103 is blessed with a satellite dish and had an old Dish Network receiver.  It took me awhile, but eventually I learned how to manually point the dish in the right direction and choose the correct azimuth.  Once I was able to lock into a satellite, that's when we [Read More]
Fall 2009 To Present Let's Go Clubbing!
We have found with our research, if you are going to do any serious RVing, then you should have a club membership to get discounts at the RV parks.  There appear to be many RV clubs, both big and small, and many of them require some sort of yearly dues.  We ended up [Read More]
10-16-2009 But Can You Color Inside The Lines?
The last major item that needed to be taken cared of was the carpet.  RV-103 used to have a light brown/golden colored carpet that really didn't match the rest of the décor very well.  It appears that sometime in the past, someone had tried to clean the carpet with a [Read More]
Are We Having Fun Yet? September – October 2009
As with any home, wheels or no wheels, when you purchase it used, you end up spending a lot of money and time "making it your own."  The same goes for us and RV-103.  Though the RV was in great shape overall, much work had to be done to turn her into our home. Systems [Read More]
Gypsy found a 2004 Coachman Santara 37 ft long for sale in TN.  She found it through the RV Dreams site which connects you with private sellers.  The price was right, the downpayment was right, and the terms right.  What was left was knowing if the RV was right or not. [Read More]