Posts Tagged 'RV-103'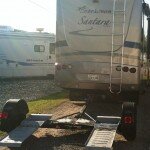 What can I say, but that it is an end to a major chapter in our lives.  Today I turned over the keys to our great and intrepid ship RV-103 Discovery to a young family and closed an extraordinary chapter of misadventures our commander and crew had lived with great joy and [Read More]
A little over a week ago, I attended the "We Made History" event at Kennedy Space Center Visitor Center.  The event was to celebrate the Space Shuttle Workforce's accomplishments over the last 30 years.  The turnout was fantastic with over 8,000 former [Read More]
The Space Show interview and parts of the CBS interview are now online. You can download The Space Show interview here or you can download it from iTunes. You can view parts of the CBS 60 minutes interview here.  The entire 60 Minutes interview will be broadcast later this [Read More]

Today is a special day for RV-103 and her crew.  Today we have reached 35,000 unique readers to our little blog.  When we started this blog in 2009, we never thought we would have the readership that we have now.  On behalf of the RV-103 crew, I want to thank you for [Read More]
Recently, a family member told Rocketman that her husband and she were going to start their own form of "misadventures."  They were now empty nesters and felt it was time to travel the country full time in an RV and wanted some advice.  After about an hour long talk [Read More]
Day One Early Monday morning we packed up and started the long trip back home.  With the tank already filled and the car loaded, we started off just before the rain started which I was thankful for.  Our goal was to reach the southern border of WV at a travel plaza in [Read More]
The Space Show Interview Is Now Online
Last night I appeared on The Space Show hosted by Dr. David Livingston.  The interview went so well that it went a half hour over the scheduled time.  There were many good calls and email questions from all over the world and Kennedy Space Center.  I wanted to thank the [Read More]
Monday evening I turned on NASA TV and watched Discovery (OV-103) do her very last rollout to Launch Complex 39 A.  As I was watching the rollout, I called some friends still working at Kennedy Space Center to chat.  It was for them, as it was for me, very bittersweet.  [Read More]
On September 18th, the RV-103 Lecture Series appeared for the open house at the Dresser-Rand Challenger Learning Center in Olean NY.  Earlier, retired astronaut Commander Pamela Melroy had appeared and spoke to the audience about what life was like as an astronaut.  Later [Read More]
The RV-103 lecture series visited the elementary schools in Olean NY this week.  The 5th grade curriculum for NY schools has the students learning about space related topics starting that year and talk about an enthusiastic groups of kids!  The kids got to hear a [Read More]
Rocketman Featured in Smithsonian Air & Space Magazine
The October/November issue of the Smithsonian Air & Space Magazine has done an article called "Throttle Down" by Tom Harpole.   The article is written about the end of the Space Shuttle Program and the economic devastation it will cause to Brevard County [Read More]
Rainbow over Cuba NY
Took a picture of a nice rainbow over Cuba NY from the RV park. [Read More]
Join the Misadventures!
RV-103 is proud to announce the RV-103 Lecture Series.  The RV-103 Lecture Series is designed to present to civic groups, schools 5th grade and up, and scout troops what it is like to be involved and work in Human Space Flight, specifically the Space Shuttle Program. The [Read More]
100th Post!!! Full Moon Over RV-103
I just realized when I made this post that it is the 100th post of RV-103.  Wow!  I thank you all for following this website and inputing your comments along the way. I also want to thank the USA Educational Department for calling me on this auspicious occasion.  I [Read More]
Happy 100th Birthday RV!
Fox News reported yesterday that this year is the 100th birthday of the RV. "You might not even think about it when you see an RV lumbering down the road, but there are about 30 million people in this country who regularly go traveling with a home on wheels." [Read More]
05-13-10 We Aren't Homeless Anymore!
We got the call today that RV-103 is repaired and ready for pickup.  We drove down to Ballantyne RV & Marine in Victor NY and paid the bill.  After inspecting the work, we prepped RV-103 to depart for our campsite. I never got to meet Jason who had been my main [Read More]
You Can Follow Us on Twitter
Since I don't post every day, some folks write me after a few days asking if there is a new post on RV-103.com or not.  Our website is now linked to Twitter under the account Random230.  Every time there is a new post on RV-103.com, a message will be sent out on [Read More]
05-04-10 Lions, Tigers, and Bears…Oh My!
We started our travels again today and drove all the way through SC and NC, finally stopping in Wytheville VA.  As we were searching for a campsite, we decided we would cash in some of the gazillion KOA points we had accumulated and stay at the Wytheville KOA.  Because of [Read More]
05-02-10 Hardeeville RV Park
We got up early this morning and broke camp.  We traveled all day through Florida and Georgia, stopping in South Carolina.  The only problem we ran into during our trip was the generator.  For some reason the generator runs, but doesn't kick on the AC power.  I was [Read More]
05-01-10 Jetty Park at Port Canaveral
Our first stop was only a short 3 hour drive to Jetty Park in Port Canaveral.  It is the only "public" campground we usually go to right on the Atlantic Ocean.  We usually stop there when we are heading north in order to visit with family and friends due to the [Read More]
05-01-10 Mission #3 The Empire (State) Strikes Back.

RV-103 is finally restocked and ready for Mission #3  We will be returning to the Empire State of NY for research, recreation, and to await the crew's birth of their first grandchild. Gypsy has been hard at work provisioning RV-103 with all the needed supplies while I [Read More]
In the RV Processing Facility
Yesterday I took RV-103 to Preventive Maintenance Service of Florida for her oil change and to have our damaged door panels looked at.  The owner, Al Cruz, came out and looked at the damaged door panels.  I told him that along with the oil change and safety check, I [Read More]
When we were in New York during our Shakedown Cruise (see Mission #1), we found that wireless internet at the various campsites did not always live up to their hype.  Connections were spotty and many times nonexistent.  Since we spent a good amount of time online [Read More]
We awoke that morning and struck camp.  We exited without any problems and finished the final leg home.  We decided to come down Florida Route 19 instead of I-75 and had a nice scenic drive. The last 20 miles were the longest.  We hit Clearwater traffic right at rush [Read More]
Satellite TV: Part Two
If you recall, prior to RV-103 launching on her first mission, I looked into getting satellite TV without success.  You can find that story here. Anyway, while here in CA, we had a neighbor in the campground for a few weeks that suggested a local company that specialized [Read More]
That's My Girl!!! Fly Baby Fly!!!
Early Easter Morning Shuttle Discovery (OV-103) lit up the pre-dawn sky from Launch Complex 39A.  She was the first ship I got to work on when I was employed by United Space Alliance and is what RV-103 is named after. From the NASAwebsite: Discovery Lifts off An exhaust [Read More]
Now A Word From Our Sponsor…
The purpose of our web site is to keep our family and friends informed of our misadventures in full time RVing.  We have been quite surprised at how much it has grown and the number of non-family that now read it each week from all over the world. We never meant for the [Read More]
02-13-10 Gold Panning at Sutter's Mill
Today we went gold panning at Sutter's Mill.  Sutter's Mill is on the south fork of the American River that carries the melt water from the snows of the Sierra Mountains to the Pacific.  Sutter's Mill is the site of the first gold discovery sparking the 1849 gold [Read More]
Though the temperatures here in CA are actually currently warmer than it is in FL, it still does get a bit chilly at night.  That means we need to run our propane furnace at night.  Propane not only runs our furnace, but our refrigerator and hot water tank.  Even though [Read More]
We spent the day today at Sutter Gold Mine.  It is a functioning gold mine, but sections of it are open to public tours.  Gold is found inside the mine in veins of crystal that can be up to 8 feet wide.  The crystal was left over from seawater that flowed in the rock bed [Read More]