Posts Tagged 'Discovery'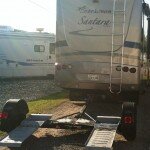 What can I say, but that it is an end to a major chapter in our lives.  Today I turned over the keys to our great and intrepid ship RV-103 Discovery to a young family and closed an extraordinary chapter of misadventures our commander and crew had lived with great joy and [Read More]
What can you say?  It is the end.  The last launch of the most successful American Human Space Flight Program, in fact the most successful HSF program in world history, after thirty years.  Fourteen people have given their lives riding these magnificent birds striving to [Read More]
The Space Show interview and parts of the CBS interview are now online. You can download The Space Show interview here or you can download it from iTunes. You can view parts of the CBS 60 minutes interview here.  The entire 60 Minutes interview will be broadcast later this [Read More]
Below is a music video (hat tip goes to Mark Bray of Braynstorms.com) giving tribute to the Space Shuttle Workforce written and performed by Dan Keenan and Kenny McLaughlin who both worked at Kennedy Space Center. I know many of the people in the video and you [Read More]
Mythos is a Greek word meaning story or legend.  Many myths throughout culture were just that, myths.  But, sometimes, those myths actually had some truth to them.  How does a real event become a myth?  How does something that we accept today become a legend or myth to [Read More]

Today is a special day for RV-103 and her crew.  Today we have reached 35,000 unique readers to our little blog.  When we started this blog in 2009, we never thought we would have the readership that we have now.  On behalf of the RV-103 crew, I want to thank you for [Read More]
Mike Leinbach, the launch director at Kennedy Space Center, ran the final launch simulation the other day in prepreation for the final Space Shuttle launch scheduled for July 8th.  He took a minute or two to speak to his entire Firing Room Team and most eloquently summed [Read More]
Charlie Bolden Says: "Your State Voted For Obama? Here, Have a Space Shuttle!
I wasn't going to comment on NASA Administrator Charlie Bolden's decision for placement of the soon to be retired Space Shuttles, but since everyone else is throwing in their two cents, I might as well too.  The decision made by Charlie Bolden, and I'm [Read More]
"Houston Discovery, For the Final Time, Wheels Stop.
It's been a couple weeks or so since Discovery ended her very last mission and I have been struggling about what to write.  As regular readers know, Discovery was the first Space Shuttle I worked on and has always been very special to me.  RV-103 was named in honor [Read More]
That's My Girl!!!
On February 24th, 2011, OV-103 Space Shuttle Discovery launched for the last time into space.  Discovery was the first Space Shuttle I had the privilege to work on and she has always been my favorite.  I have watched many launches since Columbia's first launch, and [Read More]
Day One Early Monday morning we packed up and started the long trip back home.  With the tank already filled and the car loaded, we started off just before the rain started which I was thankful for.  Our goal was to reach the southern border of WV at a travel plaza in [Read More]
The Space Show Interview Is Now Online
Last night I appeared on The Space Show hosted by Dr. David Livingston.  The interview went so well that it went a half hour over the scheduled time.  There were many good calls and email questions from all over the world and Kennedy Space Center.  I wanted to thank the [Read More]
Monday evening I turned on NASA TV and watched Discovery (OV-103) do her very last rollout to Launch Complex 39 A.  As I was watching the rollout, I called some friends still working at Kennedy Space Center to chat.  It was for them, as it was for me, very bittersweet.  [Read More]
The More Things Change, The More They Stay The Same.
The editorial below was written by Jim Slade in 1991 for ABC Radio.  It applies to our situation now as it did then. Jim Slade 1991 More of Jim's writings can be found here. [Read More]
An Idea Whose Time May Have Come.
America's Human Space Flight program (HSF) is a mess.  With the attempted cancellation of Constellation by the politician in the White House Mr. Obama, 535 members of Congress fighting over two other options of their creation, America's HSF program is truly [Read More]
The RV-103 lecture series visited the elementary schools in Olean NY this week.  The 5th grade curriculum for NY schools has the students learning about space related topics starting that year and talk about an enthusiastic groups of kids!  The kids got to hear a [Read More]
Rocketman Featured in Smithsonian Air & Space Magazine
The October/November issue of the Smithsonian Air & Space Magazine has done an article called "Throttle Down" by Tom Harpole.   The article is written about the end of the Space Shuttle Program and the economic devastation it will cause to Brevard County [Read More]
Start of Discovery's Final Voyage
Today, Space Shuttle Discovery (OV-103) rolled over to the Vehicle Assembly Building to be stacked and mated in preparation for being rolled out to Launch Complex 39A.  This will be Discovery's 39th and last mission. Though Discovery launched on her first mission August [Read More]
Put Your Face In Space!
From the NASA web site: "Fly Your Face in Space NASA wants to put a picture of you on one of the two remaining space shuttle missions and launch it into orbit. To launch your face into space and become a part of history, just follow these steps: First…Select the [Read More]
Join the Misadventures!
RV-103 is proud to announce the RV-103 Lecture Series.  The RV-103 Lecture Series is designed to present to civic groups, schools 5th grade and up, and scout troops what it is like to be involved and work in Human Space Flight, specifically the Space Shuttle Program. The [Read More]
Time Lapse Video of Shuttle Discovery
This was done by the Air and Space Museum during Discovery's last mission prep and launch.  This is my ship and my former co-workers.  I think this is the fastest I've ever seen them move.  Well done OPF 3, TPS, and United Space Alliance. Enjoy! [Read More]
05-02-10 Here At The Rock…
I got a call this morning that really caught me off guard.  It was from the mysterious Dan C. calling from an undisclosed location at KSC inquiring about my geographic status.  On the speaker phone with him were other members of his team and Dan's current class for that [Read More]
When Things Go Viral
About a week ago I posted an analysis on Obama's speech ending our Human Space Flight Program.  I was surprised to find it being featured on at least seven web sites, including NASAwatch.com. My first clue was when I couldn't log on to my website.  The message I kept [Read More]
05-02-10 Hardeeville RV Park
We got up early this morning and broke camp.  We traveled all day through Florida and Georgia, stopping in South Carolina.  The only problem we ran into during our trip was the generator.  For some reason the generator runs, but doesn't kick on the AC power.  I was [Read More]
05-01-10 Jetty Park at Port Canaveral
Our first stop was only a short 3 hour drive to Jetty Park in Port Canaveral.  It is the only "public" campground we usually go to right on the Atlantic Ocean.  We usually stop there when we are heading north in order to visit with family and friends due to the [Read More]
05-01-10 Mission #3 The Empire (State) Strikes Back.

RV-103 is finally restocked and ready for Mission #3  We will be returning to the Empire State of NY for research, recreation, and to await the crew's birth of their first grandchild. Gypsy has been hard at work provisioning RV-103 with all the needed supplies while I [Read More]
That's My Girl!!! Fly Baby Fly!!!
Early Easter Morning Shuttle Discovery (OV-103) lit up the pre-dawn sky from Launch Complex 39A.  She was the first ship I got to work on when I was employed by United Space Alliance and is what RV-103 is named after. From the NASAwebsite: Discovery Lifts off An exhaust [Read More]
Inside OPF 3, the Home of OV-103 Discovery
I have a treat for you all.  Astronaut Mike Massimino recently took a video camera into my old work place, Orbiter Processing Facility 3 at Kennedy Space Center.  In the video you will see a few of my former co-workers of United Space Alliance preparing Shuttle Discovery [Read More]
Now A Word From Our Sponsor…
The purpose of our web site is to keep our family and friends informed of our misadventures in full time RVing.  We have been quite surprised at how much it has grown and the number of non-family that now read it each week from all over the world. We never meant for the [Read More]
01-08-10 to 01-26-10 Where is the California Sunshine?
The Beach Boys used to sing about the California Sunshine and I am beginning to think it is just a myth.  For the last 18 days it has rained nearly every day.  And the wind!  Storm after storm coming off the Pacific has brought winds that would gust up 50 mph.  I would [Read More]