'Mission #2 Westward Ho! 12-19-09 to 04-23-10' Archives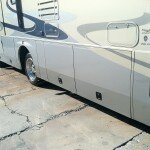 Towards the end of Mission #2, RV-103 had a mishap with a pole, as detailed here.  Last month, I finally got an opportunity to get her fixed and wanted to write a review on the garage that did the work. As you could tell from the pictures from the accident, RV-103 [Read More]
We awoke that morning and struck camp.  We exited without any problems and finished the final leg home.  We decided to come down Florida Route 19 instead of I-75 and had a nice scenic drive. The last 20 miles were the longest.  We hit Clearwater traffic right at rush [Read More]
We got up that morning and packed up the RV to continue on our way.  We had been staying the night at Martin Lake RV Park.  As we started to leave, we ended up having an anomaly during our exit. The exit is lined with wooden poles sticking about 3 feet up from the [Read More]
We finally packed up from our nice rest just outside of Houston and continued our re-entry back home.  It had been a nice break from traveling,  and we really did enjoy the campsite we were staying at, but it was time to press on. Not long after we started our journey [Read More]
On April 18th, our fearful leader Commander Merlin allowed me some shore leave.  Since we were just outside of Houston, I drove over to see Johnson Space Center's Visitor Center.  I have spent many hours at the Kennedy Space Center Visitor Center (I'm even shown [Read More]
April 17th, 2010 Houston TX Day One
Commander Merlin ordered the crew to take a break from our duties.  So, we drove to a campground just outside of Houston and settled down for a couple days of R&R. We ended up at Trinity Bay RV Park in Anahuac TX on Trinity Bay.  The place actually ended being a very [Read More]
April 16th, 2010 Still in TX!
We proceeded on our re-entry home.  Commander Merlin spent a good amount of time on the bridge and touring the ship.  It is always good to see the Commander.  She does improve crew morale.  Eventually she took her seat behind the crew and kept watch over us while we [Read More]
April 15th, 2010 The Great State of Texas!
The next morning we arose and started to leave our desert oasis.  We seriously debated taking a detour to go to Roswell NM and see Obama's new space program at Area 51, but decided against it. We instead continued our journey and went on to Texas.  We entered TX at El [Read More]
April 14th, 2010 Night in the Desert
We continued through AZ after our adventure at the Rest Stop and entered NM.  We ended up staying at a RV park in Deming NM owned by Bowlin Travel Center right off I-10 for only $12. This park is right in the middle of no mans land with nothing but desert all around.  The [Read More]
Danger Danger Will Robinson!!!
The one thing I don't like about AZ is the fact that they have closed every rest stop on I-10 except for two.  I don't know why AZ has closed so many rest stops.  It might be due to budget shortfalls, or as some signs said, "No water."  No matter the reason or [Read More]
April 13th, 2010 Resumed our re-entry
Early the next morning, we resumed our journey back home. We passed Edwards Air Force Base in the Mojave Desert.  Edwards is the backup landing site for the Space Shuttle.  When the weather is too bad at KSC, the shuttle will always go to Edwards.  The first five flights [Read More]
April 12th, 2010 RV-103 Starts Re-entry
Today we packed up RV-103 and started the long journey home to Florida.  We have been sitting in one spot for so long, that it took us a little longer than usual to get RV-103 ready to leave.  Usually, it takes us less than 30 minutes to pack up and get moving, but when [Read More]
Satellite TV: Part Two
If you recall, prior to RV-103 launching on her first mission, I looked into getting satellite TV without success.  You can find that story here. Anyway, while here in CA, we had a neighbor in the campground for a few weeks that suggested a local company that specialized [Read More]
I Got the Post Office Blues
While I was at the Jelly Belly factory, I picked up some jelly beans for my mother's birthday.  I at first looked into the factory shipping her present, but they wanted more money than what I had paid for the actual product.  I felt I could do better and took her gift [Read More]
03-25-2010 Seeing Nature on a Grand Scale!
When I was a young boy in grade school, I remember reading about the giant Redwoods that grew in California.  I've always wanted to see them and since we were here I wasn't about to pass this opportunity up.  Though the nearest Redwoods were 4 ½ hour's drive away, [Read More]
03-14-2010 It was a "Vice" Day
Today was a nice day for a vice day.  We started out with some wine tasting in the local vineyards.  We with the vineyard within walking distance from our campsite called Mining Camp Winery in Shingle Springs CA.  I think it was a "ghost" winery because though the [Read More]
Jelly Belly
Last week we went to the Jelly Belly Factory in Fairfield CA.  This company was founded by two brothers who had emigrated from Germany in 1867.  By 1869, they had bought an old ice cream and candy store and that began a 141 year company that is still owned and ran by [Read More]
A Fantastic, Unimportant Announcement!
As I said in earlier posts, California has had quite a lot of rain lately.  Though we had a week of sunshine recently, we are back into the rain again nearly every day.  I understand that California has had a drought for the last three years, but it is not good luck for [Read More]
03-04-10 Did We Go To The Casino?
Gypsy and I enjoy going to the casinos to have an evening out and maybe win some money.  We aren't big gamblers by a long shot.  We would usually play the nickel and quarter slots.  Monopoly is our favorite slot machine.  We have gotten pretty good at making $50 last [Read More]
02-13-10 Gold Panning at Sutter's Mill
Today we went gold panning at Sutter's Mill.  Sutter's Mill is on the south fork of the American River that carries the melt water from the snows of the Sierra Mountains to the Pacific.  Sutter's Mill is the site of the first gold discovery sparking the 1849 gold [Read More]
Though the temperatures here in CA are actually currently warmer than it is in FL, it still does get a bit chilly at night.  That means we need to run our propane furnace at night.  Propane not only runs our furnace, but our refrigerator and hot water tank.  Even though [Read More]
We spent the day today at Sutter Gold Mine.  It is a functioning gold mine, but sections of it are open to public tours.  Gold is found inside the mine in veins of crystal that can be up to 8 feet wide.  The crystal was left over from seawater that flowed in the rock bed [Read More]
01-27-10 Sunshine!!
Today, it stopped raining.  I knew it was too quiet.  No thunderous pitter patter on the roof, a strange bright light flooding through the windows, and it was warming up quite nicely.  In fact, from this day to late-February it was to be actually warmer than it was in [Read More]
You Know You Are In California
You know you are in California… When you hear marijuana shops advertizing on the radio. When the traffic report says rush hour at an intersection is being blocked by panhandlers. When you meet someone on a professional level and their name is "Blossom." [Read More]
01-08-10 to 01-26-10 Where is the California Sunshine?
The Beach Boys used to sing about the California Sunshine and I am beginning to think it is just a myth.  For the last 18 days it has rained nearly every day.  And the wind!  Storm after storm coming off the Pacific has brought winds that would gust up 50 mph.  I would [Read More]
01-07-10 San Joaquin Valley Part Two
We arose the next morning, filled our propane and proceeded on our way. The scenery started to change from what we had seen yesterday. Though the farms were still there stretching out to the horizon, there were fewer aqueducts and you could see the desert reclaiming the [Read More]
01-06-10 San Joaquin Valley Part One
We arose early that morning and continued our trip.  We bypassed Los Angeles and started north through the length of CA.  The mountains we had seen so far had been beautiful, some of them snow capped shining in the sun. We climbed some mountains just north of LA.  RV-103 [Read More]
01-05-10 Off to California!
We left that morning for California.   It didn't take us too long before we got to the state line.   I was surprised to find another checkpoint, this time an actual structure, which we had to pass through to enter California.   The officers said it was to "check for [Read More]
Wandering the Desert for 40 Years
Gypsy had to fly back home to take care of some personal business with her family during our stay in AZ.   While there, she had described to her son and daughter-in-law about the many varied cactuses we had seen during our hikes.   When she came back, she informed me that [Read More]
Thar Be Gold In Them Thar Hills!
We did some dry panning in the BLM land next to our campsite. Though the streams were dry, we actually found some silver ore and then…WE FOUND GOLD!!! Our second day of dry panning we actually found some gold flakes, some imbedded in hardened mud balls that were [Read More]