Posts Tagged 'Merlin'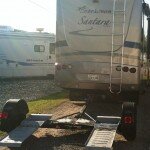 What can I say, but that it is an end to a major chapter in our lives.  Today I turned over the keys to our great and intrepid ship RV-103 Discovery to a young family and closed an extraordinary chapter of misadventures our commander and crew had lived with great joy and [Read More]
While we wait for NASA to actually begin a Human Space Flight Program again, the crew of RV-103 and I thought it would be a good idea to find a way to pass the time.  So, Gypsy suggested we have a Human Space Flight Trivia game for all the readers.  Go For Launch! has [Read More]

Today is a special day for RV-103 and her crew.  Today we have reached 35,000 unique readers to our little blog.  When we started this blog in 2009, we never thought we would have the readership that we have now.  On behalf of the RV-103 crew, I want to thank you for [Read More]
Recently, a family member told Rocketman that her husband and she were going to start their own form of "misadventures."  They were now empty nesters and felt it was time to travel the country full time in an RV and wanted some advice.  After about an hour long talk [Read More]
Day One Early Monday morning we packed up and started the long trip back home.  With the tank already filled and the car loaded, we started off just before the rain started which I was thankful for.  Our goal was to reach the southern border of WV at a travel plaza in [Read More]
The RV-103 lecture series visited the elementary schools in Olean NY this week.  The 5th grade curriculum for NY schools has the students learning about space related topics starting that year and talk about an enthusiastic groups of kids!  The kids got to hear a [Read More]
Put Your Face In Space!
From the NASA web site: "Fly Your Face in Space NASA wants to put a picture of you on one of the two remaining space shuttle missions and launch it into orbit. To launch your face into space and become a part of history, just follow these steps: First…Select the [Read More]
Join the Misadventures!
RV-103 is proud to announce the RV-103 Lecture Series.  The RV-103 Lecture Series is designed to present to civic groups, schools 5th grade and up, and scout troops what it is like to be involved and work in Human Space Flight, specifically the Space Shuttle Program. The [Read More]
Commander Merlin Goes on Her First EVA!
The only time that Commander Merlin has ever left RV-103 was in her escape craft/shuttle called PC or Pet Carrier.  It was time for her to experience her first Extra Vehicular Activity or EVA. The crew of RV-103 helped Commander Merlin into her harness and tether with [Read More]
When the Crew Goes AWOL
Recently, Gypsy and I took a short weekend trip out of state to take care of some business.  Since we were going to be gone for about four days, we made arrangements with Gypsy's son and daughter-in-law to look in on Commander Merlin and RV-103. Upon our return, we found [Read More]
It's Jail For You My Furry Little Feline!
I decided the crew needed to unwind from all the stresses lately, so I took the crew out to the local bar.  We had a wonderful time at first and maybe drank a bit too much.  I vaguely remember Rocketman was dancing on the table naked wearing deer antlers he had grabbed [Read More]
05-02-10 Hardeeville RV Park
We got up early this morning and broke camp.  We traveled all day through Florida and Georgia, stopping in South Carolina.  The only problem we ran into during our trip was the generator.  For some reason the generator runs, but doesn't kick on the AC power.  I was [Read More]
05-01-10 Jetty Park at Port Canaveral
Our first stop was only a short 3 hour drive to Jetty Park in Port Canaveral.  It is the only "public" campground we usually go to right on the Atlantic Ocean.  We usually stop there when we are heading north in order to visit with family and friends due to the [Read More]
05-01-10 Mission #3 The Empire (State) Strikes Back.

RV-103 is finally restocked and ready for Mission #3  We will be returning to the Empire State of NY for research, recreation, and to await the crew's birth of their first grandchild. Gypsy has been hard at work provisioning RV-103 with all the needed supplies while I [Read More]
We awoke that morning and struck camp.  We exited without any problems and finished the final leg home.  We decided to come down Florida Route 19 instead of I-75 and had a nice scenic drive. The last 20 miles were the longest.  We hit Clearwater traffic right at rush [Read More]
On April 18th, our fearful leader Commander Merlin allowed me some shore leave.  Since we were just outside of Houston, I drove over to see Johnson Space Center's Visitor Center.  I have spent many hours at the Kennedy Space Center Visitor Center (I'm even shown [Read More]
April 17th, 2010 Houston TX Day One
Commander Merlin ordered the crew to take a break from our duties.  So, we drove to a campground just outside of Houston and settled down for a couple days of R&R. We ended up at Trinity Bay RV Park in Anahuac TX on Trinity Bay.  The place actually ended being a very [Read More]
April 16th, 2010 Still in TX!
We proceeded on our re-entry home.  Commander Merlin spent a good amount of time on the bridge and touring the ship.  It is always good to see the Commander.  She does improve crew morale.  Eventually she took her seat behind the crew and kept watch over us while we [Read More]
Now A Word From Our Sponsor…
The purpose of our web site is to keep our family and friends informed of our misadventures in full time RVing.  We have been quite surprised at how much it has grown and the number of non-family that now read it each week from all over the world. We never meant for the [Read More]
02-13-10 Gold Panning at Sutter's Mill
Today we went gold panning at Sutter's Mill.  Sutter's Mill is on the south fork of the American River that carries the melt water from the snows of the Sierra Mountains to the Pacific.  Sutter's Mill is the site of the first gold discovery sparking the 1849 gold [Read More]
01-08-10 to 01-26-10 Where is the California Sunshine?
The Beach Boys used to sing about the California Sunshine and I am beginning to think it is just a myth.  For the last 18 days it has rained nearly every day.  And the wind!  Storm after storm coming off the Pacific has brought winds that would gust up 50 mph.  I would [Read More]
Go Fever! 12-22-09
Go Fever is a an old NASA term that meant you were so focused on meeting a launch deadline that you would overlook or dismiss warning signs of a problem.  "What, the left wing of the Space Shuttle is falling off?  Not a problem!  The shuttle still has its right wing to [Read More]
12-19-09 Launch day for Mission #2
As we were closing out the condo, we discovered Commander Merlin hiding under…errrr…doing a final walk down under the bed.  It took both crew members to coax her out so she could report for duty on the bridge of RV-103.  We loaded her up in her own little special [Read More]
Comtemplation
[Read More]
11-09-2009 Commander Merlin Orders The Crew To Stand Down
We had a free day today thanks to Commander Merlin.  She had decided we all needed a down day and of course led by example by laying in bed all day watching TV. The crew decided to try out their new gold panning kit in the local creek.  Though New York is not known for [Read More]