Last Thursday I received a email invite from Brevard Workforce, asking me to participate in a Townhall meeting hosted by CBS news anchor Scott Pelley for the show 60 Minutes.  On Saturday I drove over to Brevard County and had the most surreal day I've had for a long time.  At least it didn't include any makeup, not that it would have helped with my ugly face.
About 20 laid off and current aerospace workers from Kennedy Space Center sat down to have a chat with Scott Pelley about the end of our nation's Human Space Flight program and the economic devastation that it is causing and will further cause for Titusville and Brevard County.  It was a good mix of people ranging from folks who have been there since Apollo to newbies that had just started working there in the last few years.  They came from many different parts of KSC; Ground Support, Quality, Admin Support, Information Technology, and of course Thermal Protection System.  They also came from several aerospace contractors, and just not United Space Alliance.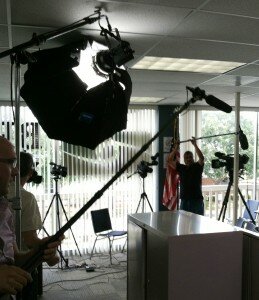 We were ushered into a break room and provided drinks and donuts as the crew set up the "stage."  That gave us all a chance to "meet and greet" with each other and catch up on news with the ones we already knew.  TPS was represented by me and my former co-worker John McCoy.  It was good to see him since it's been almost 2 years since we last worked together.
We soon were sent for and we shook hands with the crew, producers, and Mr. Pelley before being seated.  While some tests with the cameras and sound booms were being made, Mr. Pelley spent his time talking with us and getting to know us.  I asked him how it felt to walk in Walter Cronkite's shoes, and he said that he couldn't begin to even fill his shoes because the man is such a legend at CBS, though he did find a leftover pair of Katie Couric's shoes under a desk that were too small for him.
It was soon time to start the interview and we first introduced ourselves on camera, then the questions began.  We were asked about our thoughts on the current condition of HSF, how the layoffs had personally affected our lives, and how we saw it affecting the area both now and what we thought for the future.
It was comforting in a weird way to find out that the people who had been laid off for over a year now were facing the same struggles to find full time work as I have.  Almost everyone of them has had only one full time interview for a full time job since they have been laid off which is the same experience I've had.  I was beginning to think there was something wrong with me or my resume.  It turns out that many others were having the same problem as I am.
One young woman had gotten a job after being laid off for six months, but was laid off again after 2 months on her new job and is now facing foreclosure on her home and the end of her unemployment benefits.  Many people don't realize the quadruple whammy that the HSF community is facing: Final and career ending layoffs, the country being in the "Greatest Depression" for many years to come, age discrimination by prospective employers due to the fact the average age of the KSC worker is 45, and their homes being underwater limiting their options to move to find work.
The amazing thing was, no matter how bad the economic situation was for all of us, as a group, we still exhibited the old NASA "can do" spirit and confidence that we would overcome these problems.  Something that NASA has forgotten.  I learned quite a bit listening to these other former KSC brothers and sisters and I think Mr. Pelley did too.
The interview lasted for almost a hour and half, and once again, Mr. Pelley and his entire crew made the time to thank each of us personally and shake our hands.  I found them all to be professional and showed the utmost courtesy towards us and towards each other.
The 60 Minutes interview will not be shown until this fall, but snippets of the interview will be shown on CBS during the week of the last launch.  Atlantis is scheduled to launch on July 8th.  Once I know the air dates, I'll post them here and on Facebook.
I spent the next hour or two having lunch with a old friend and mentor, Dr. Al Koller of SpaceTEC.  I have known Dr. Koller since I was a first year student in the brand new aerospace technology program and his wisdom has always amazed and humbled me.  We talked about the interview, the direction or non-direction of America's HSF, and about the Space Updates blog I write for SpaceTEC in my spare time.  We also talked about the next large opinion piece I'm going to write about on RV-103 about the end of the Space Shuttle program and the future of HSF.  Dr. Koller has been involved in HSF since he was a young engineer in the Apollo launch control team, and gave me great insight and tips on the subject matter I will be writing about that will make the piece much stronger.  That post should be coming out in a week or two as I am still working on the outline and doing research.
After lunch, I drove out SR 405, crossed the draw bridge and pulled over.  From there I could see Atlantis sitting on the pad.  The last Space Shuttle being readied for the last launch.  It was bitter sweet to only be able to see her from so far away and to know it's going to be the last time, yet wonderful to know I had one more view of seeing a shuttle on the pad.  I spent some time there just reflecting on it and pondering about what is next in my life as well as our nation's HSF.  Then it was time to make the 2 1/2 hour drive home.  The picture below was taken with my cell phone.  The square structure is the Vehicle Assembly Building.  To the left of the VAB is the completed launch tower for the now cancelled Ares One rocket.  That tower was finished just one day after the Constellation program and our HSF program was cancelled.  Millions of taxpayer dollars thrown away and wasted by NASA admin and Obama.
LC 39 Pad B is gone now, torn down and nothing but a concrete slab.  It's weird to not see it standing there anymore.  Off to the right of the VAB close by is the smaller structure of LC 39 Pad A where Space Shuttle Atlantis sits.  That is the same pad that the Apollo missions have taken off from to travel to the Moon and many Space Shuttle have flown from there including Challenger and Columbia on their last missions before being lost with all hands.  Now Atlantis will be lifting off soon from there for the last time and our HSF will be lost with all hands possibly never to return anytime soon.  So much history and promise and now so much soon to be lost to mythos.